Information desk for entrepreneurs
Thursday 19 March 2020
Entrepreneurs who are affected by the coronacrisis and are looking for answers to their questions can contact our information desk.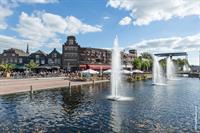 The coronavirus has a huge impact on the Dutch economy, and it will probably also affect your business and your employees. We are taking measures to help entrepreneurs affected by the crisis. If you have any questions, please contact one of our account managers.
Manuel Martinez - industry, offices and business parks
Phone number 06 51 66 57 85
E-mail martinez@helmond.nl
Adil Marra – city center, shopping centers, hospitality and retail
Phone number 06 37 11 52 46 
E-mail a.marra@helmond.nl
Ellen van Schijndel – starters, small businesses and self-employed workers
Phone number 06 42 19 56 56
E-mail e.van.schijndel@helmond.nl
You can also send an e-mail to accountmanagement@helmond.nl.