Temporary camera surveillance at Weverspark and Advocaat Botsplein
Friday 23 August 2019
From Friday 23 August 2019, two surveillance cameras have been installed at Weverspark and Advocaten Botsplein. These surveillance cameras focus on the public part of the two locations. Police and municipal supervisors are involved. The public prosecutor has granted permission for the actual placement of the cameras. Camera surveillance has been communicated with both the neighbourhood council and the neighbourhood prevention team.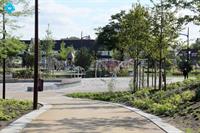 The cameras are installed for a period of 6 months. With the placement of the cameras, extra surveillance can be
created. Also it is expected to give a better view and grip on the experienced nuisance in this neighbourhood. In addition to the surveillance cameras, there is an intensification of the deployment of police and municipal enforcers.
Visitors to these locations are informed by placing signs that they are entering a camera-protected area.
After 2 months, there will be an evaluation of the effects of camera surveillance at these locations.