Current information regarding waste collection
Tuesday 17 March 2020
The developments surrounding the coronavirus also impact the waste collection in Helmond. Here you can read the most current information regarding this subject.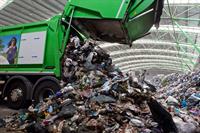 Update March 18
Waste collection
The waste collection continues as usual. Please note: there is one change. Do you live in Brandevoort or Helmond-West and is your paper container scheduled to be emptied today or tomorrow, March 19th? Unfortunately we are dealing with a delay. Please leave your paper container on the public road as it will still be emptied, yet perhaps later this week. Apologies for the inconvenience.
De Milieustraat
The waste recycling station, 'de Milieustraat,' still operates during its regular opening hours: Monday to Friday 13.00 – 17.00, Saturday 8.30 – 16.00. You can bring your waste to Gerstdijk 1, 5704 RG in Helmond. During opening hours, you can call them via (0492) 47 52 93.
Please note: We kindly ask you to only visit the waste recycling station if strictly necessary.
Collection of chemical waste
It is currently not possible to hand-in chemical waste (KCA) at the KCA-bus, until at least April 6th. We kindly ask you to temporarily store the chemical waste at home.
Photo: PressVisuals