Every child deserves to participate
Wednesday 8 May 2019
Are you a parent with children between the ages of 0 and 18, and are you struggling to get by? Then perhaps you can rely on the Child Package.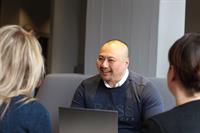 From the Child Package, school trips, school supplies, sports or music lessons, swimming lessons and many other things are reimbursed. This way, children can also participate, discover their talents and work on their self-confidence just like their peers.
There is a special foundation 'Leergeld Helmond' that implements the Child package on behalf of the municipality of Helmond. Mister Louis Nguyen is one of the volunteers and he conducts intake interviews. If necessary, he comes to people at their homes. "Often it are positive conversations, where we can explain tot people what kind of help we can offer in their situation."
If you are interested in the Child package and you want to know if you meet the requirements, please go to their website (Dutch only).