Elections for the European Parliament on 23 May
Monday 29 April 2019
The European Parliament represents citizens of all member states at a European level. The elections for the European Parliament will be held in the Netherlands at 23 May 2019.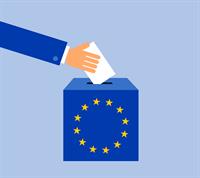 Who can vote?
You can only vote if:
You are 18 or older on 23 May 2019.
You were registered as resident in Helmond on 9 April 2019.
You will receive a poll card (stempas) between 2 and 9 May by post, if you are eligible to vote.
Criteria for eligibility to vote for the European Parliament
On 23 May, you must be aged 18 or above.
You must be a national of one of the EU Member States. If you are not a Dutch citizen, you will need to have registered as a voter at the latest on 9 April 2019, in order to be able to cast your vote in the Netherlands.
You must have been registered in the Municipal Personal Records Database (BRP) as resident in Helmond by 9 April 2019, when the deadline for the submission of candidates expired. If you registered in the Netherlands after 9 April 2019, you are not eligible to vote (in the Netherlands) in the elections for the European Parliament.
You must not have been legally excluded from voting.
Voting for the European Parliament without Dutch citizenship
Are you a citizen of another EU country and would you like to vote for the Dutch members in the European Parliament? This is possible if you registered no later than 9 April as a voter.
What do you need?
When you vote, you must bring your poll card and identity document. An expired identity document will be accepted, but it must not be expired by more than five years.
Poll card lost or not received
If you have not received a poll card, or if you have misplaced your poll card, you can apply for a new one in person at the Stadswinkel up to 22 May, 12.00 noon. You must present an identity document.
If you wish to apply for a new poll card in writing (PDF, in Dutch), the Civil Registry (Basisinformatie) must receive your request no later than 20 May (send it to gemeente Helmond, or deliver it in person at the Stadswinkel).
You can also apply for a new poll card with DigiD (in Dutch) until 20 May 24.00.
Where can you vote?
Your voting pass will list the address of a polling station in your neighbourhood, but you are free to vote at any polling station in Helmond. Click here for an overview of all polling stations in Helmond.
More information
For more information on the European Parliament elections, you can visit the elections page. The information here is available in Dutch only.