Limit the chance of a natural fire
Wednesday 3 July 2019
Summertime is coming! The last few weeks the weather was hot and with no rain the area has become dry in Helmond. That means that the risk of natural fires is high. The fire brigade is therefore extra alert to the occurrence of fire in nature reserves. Even in times of drought, visitors are of course welcome to visit nature. We do ask you to be extra alert and to report suspicious cases.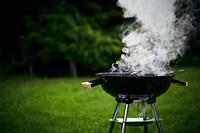 How do you limit the risk of a natural fire?
Making a fire and barbecuing is only permitted at special picnic and fire places.

Always have a fire extinguisher (as a garden hose, bucket of water  etc.) at hand for a starting fire.

Dispose your waste in the designated bins. Smoldering litter and glass is regularly a cause of natural fire!
Do you suspect arson?
Take photos or make a video of the situation. Remember the location and any personal characteristics or license plate number so that you can pass this on to the 112 emergency room and emergency services.
How do you determine your location?
The 112 control room uses SMS verification. So keep your cell phone handy. Orientate yourself in others cases with the help of the indications of bicycle route nodes or ANWB mushrooms.
What should you do in the event of a natural fire?
Keep calm, call 112 and indicate the location of the natural fire. Do not attempt to extinguish a large fire yourself. Leave the place in the direction of the public road or the built-up area. Don't walk ahead of the fire, stay out of the smoke and always walk perpendicular to the cloud of smoke. Give emergency services space! Never park on forest paths and ensure a free passage.