Easter: changed opening hours and waste collection
Wednesday 17 April 2019
Easter is almost here! Therefore, the municipality of Helmond has changed opening hours and the waste collection vehicles will also come by at a different time than you are used to.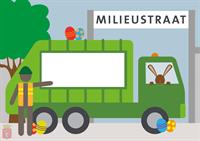 On Good Friday (19 April) and Easter Monday (22 April) all municipal buildings are closed. On these days we will also be unavailable by phone. If you want to report something, you can do so via our digital reporting point.
The evening opening hours of the Stadswinkel will shift from Monday 22 April to Wednesday 24 April. On that day, the Stadswinkel will be open until 7 p.m. and you can only visit us when having an appointment, which you can schedule via our online appointment planner. 
Please note: if you are coming to collect a travel document or driver's license, you can also visit us during the evening opening hours on Wednesday 24 April instead of Monday evening on 22 April. Museum Helmond is open on Good Friday according to the regular opening hours and during Easter from noon to 5 p.m. Read more information on the website of Museum Helmond.
Reclycling station (Milieustraat) and waste collection
Good Friday: the reclycling station (Milieustraat) is open according to the regular opening hours
Easter Monday and 2nd day of Easter: the recycling station (Milieustraat) is closed
For changed waste collection days visit the website of De Afvalapp. When entering your postcode and house number, you will see a current calendar. It contains the collection dates for all types of waste. You can also download the waste app as an app for your smartphone or tablet.
SpoedvoorJeugd
Professionals, parents and youth can contact SpoedvoorJeugd at 088 - 0666 999, in the event of an emergency with a young person. SpoedvoorJeugd is available 24 hours a day, 7 days a week. This number can only be reached for crisis situations.