Fall leaf collection
Thursday 11 October 2018
As of monday the 22th of october, 400 leaf baskets will be placed throughout Helmond. In addition the municipality is deploying additional staff with sweepers and leaf blowers. You can also help prevent nuisance in your neighbourhood by depositing leaf waste (no branches or organic waste) in the leaf containers.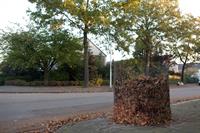 The leaf baskets remain, depending on the leaf fall, until about the end of december. They will be emptied at least once every week. For the placement of the leaf baskets we looked at a good spread in the city and the number of trees in the neighbourhood. At www.helmond.nl/bladkorven (only Dutch) you can see where the leaf containers are placed.
Reporting nuisance
Do you see a damaged leaf container or has a certain leaf container disappeared? Please report this by contacting the Customer Contact Center via telephone number 14 0492 or by filling in the notification form.