Ascension Day: offices closed
Friday 4 May 2018
All municipal offices will be closed on Thursday May 10th. (Ascension Day) and Friday May 11th. This also applies to the Stadswinkel and Zorg & Ondersteuning. Also you can not reach us by telephone. The collection dates for the waste and the opening hours for the recycling center have changed.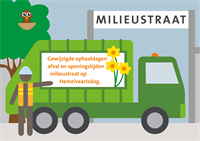 Arrange your business online
You can easily arrange many things yourself via our website. For example, you can digitally transfer a move or make an appointment. If you want to report a message during a trip to the city, such as a hole in the road, loose sidewalk tiles or broken street lighting, you can digitally submit your report here.
Modified collection data waste
Look for changed collection dates for the waste on the website www.deafvalapp.nl. When you enter your zip code and house number there, you will see a current calendar. This contains the collection dates for all types of waste. You can also download the trash app as an app for your smartphone or tablet.
Changed opening times for environmental street
The recycling center is closed on Ascension Day. Friday after Ascension Day, the recycling center has extended opening hours: from 8.30 to 17.00 hours