Assessment municipal taxes
Thursday 25 January 2018
You will receive the assessment notice for the municipal taxes in your mailbox between 24 and 31 January. This assessment notice states what you pay on municipal taxes this year: waste tax, sewerage tax, real estate tax (OZB) and dog tax. If you have previously registered with MijnOverheid, you will probably receive the assessment digitally in your message box.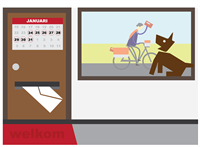 How can you pay the assessment?
If you authorize the municipality for direct debit, the amount will be debited from your account in 8 instalments. Do you not want to use direct debit? Then you must transfer the amount yourself at once. You will find the date for which it must have been transferred on the assessment notice. Note: payment by direct debit is not possible for entrepreneurs. 
Do you prefer to receive your mail digitally?
If you register with MijnOverheid, you can now receive mail from the government in your message box. Go to the website of MijnOverheid to register with DigiD. Here it is explained exactly how it works.
More information: