'Highest point' theatre Speelhuis
Wednesday 6 September 2017
On December 20, 2016, the rebuilding of Theater Speelhuis started. The building is on schedule and the highest point, 'the roof', is reached. This was celebrated on Wednesday afternoon 6th September.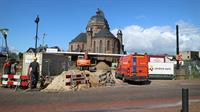 Starting December 1, the theater program will start again. The main entrance will be at the Wilhelmialaan until the new foyer on the south side is ready. Visitors can enter the theater during the course of February 2018 via the new entrance on the Kromme Steenweg.
Beginning of December, work on the outdoor area will begin. Part of the Kromme Steenweg and Wilhelminalaan are adapted to the new situation. In the summer of 2018 the outdoor space will be ready, after which the festive opening of the new theatre will take place at the end of September 2018.