Replacement willows Dierdonk
Wednesday 15 November 2017
In the coming months, the municipality plans to plant 42 new trees in the Dierdonk district. These trees replace the willows that have caused nuisance in the neighbourhood for a long time. It is the specific species Salix alba 'Sericea'. These willows are removed and instead the new trees are planted in the coming months. The planting lasts until the end of March 2018.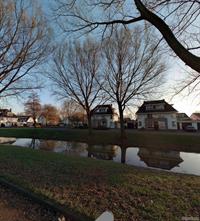 Willows cause inconvenience
In the Dierdonk district, there were many complaints last year about the nuisance of willows that were planted during the construction of the district. Last year, some of the willows have already been replaced. It was then trees along a part of the Waterleliesingel and on the Zevenstersingel. For the coming planting season (November to March) the replacement of the remaining trees is on the roll. 
More variety of trees
The 42 new trees are of nine different species, including the lime, oak, maple and tulip tree. When choosing trees, the value that these tree species have for insects such as bees and butterflies is explicitly taken into account. In addition, the variety of insects will increase by choosing multiple tree species. On the enclosed tickets you will find an overview of the new trees to be planted and the willow trees to be harvested: