Summer fair: 6-12 July
Friday 21 July 2017
The summer fair will be held this year from Thursday 6 until Wednesday 12 July. There are about 60 attractions on and around the Market, Ameide Square, Watermolenwal, Speelhuis Square and Havenpark.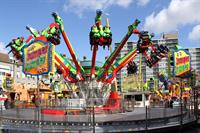 Because of the fair the following streets are closed for traffic: (the end of) the Noord-Koninginnewal, the Ameidewal and the Watermolenwal from Monday 3 July (form 18.00 hrs) until Thursday 13 July (18.00 hrs). The City parking can only be reached via the Torenstraat. Residents of these streets have limited access with their car to their home for loading and unloading.
Parking
The normal parking times apply to the parking spaces and terrains on the street. At the parking lots Ameidewal and Speelhuisplein can not be parked during the fair. Permit owners will receive a personal message on this.
The guarded garage Doorneind and City are open until 22.00 hrs, as well as the guarded Doorneind and Speelhuisplein bicycle stations. For parking garage Boscotondo and the bicycle parking Castle Traverse (Parkweg) the normal opening hours are valid. All car parks are subject to normal rates. At the entrance to the municipal parking garages and bicycle shelters you will find an overview of the opening hours during the fair period.
Check for more information the website of the summer fair: www.helmondkermis.nl.