Changed pick-up days for public holidays
Friday 22 December 2017
No waste is collected on the 1st and 2nd Christmas day and on New Year's Day. The pick-up days will be made up on another day.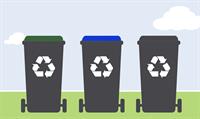 Instead of Christmas Day, the GFT container and PMD bag will be collected on Saturday 23 December. Instead of Boxing Day, the GFT container and PMD bag will be picked up on Saturday, December 30th. Instead of New Year's Day, the residual waste container will be collected on Saturday 6 January.
Old paper
The old paper is collected by various collectors. Check www.deafvalapp.nl if the collection is caught up with you. Enter your postcode and house number there and you will see exactly when and where you can offer your waste. The new collection dates have already been processed here. You can also download "DeAfvalApp" in the Appstore or Playstore for your smartphone or tablet.
Dispose your waste before 07.30 hrs
The collection services are possible at an earlier time in your street than usual. Put your containers and PMD bag on the street before 07.30 am to prevent the collection services have already been.
Unfortunately, it happens regularly around the turn of the year that containers are blown up by fireworks. So get your container back in as soon as possible after emptying.